Percy Parker comes to Town
Due to the changes in the National Curriculum, Lowerplace Primary School are adapting and employing new strategies to meet those changes.
Meet Percy Parker, just 1 method we now employ to ensure that our pupils are given every chance to succeed.
---
Lowerplace Apps Page
[ezcol_1third][it-rotate group="0″][/ezcol_1third] [ezcol_1third][it-rotate group="0″][/ezcol_1third] [ezcol_1third_end][it-rotate group="0″][/ezcol_1third_end]
When it comes to finding content for your lessons, iPad has something for everything you teach. And for everything your students want to learn. There are hundreds of thousands of apps, interactive textbooks, videos and podcasts that cover every subject and year. Here we will feature all the Apps that we have deployed within school and a brief description on what and how they are used.
---
The latest App soon to be deployed at Lowerplace.
Please use the link below for more details.
---
colAR Mix
On the Cutting Edge of Augmented Reality
Vuforia, an offshoot of chipset maker Qualcomm, is making an investment in augmented reality and kids toys. One of their developers, ColAR Mix (pictured below), lets kids print coloring book pages on a normal printer, color them in with normal crayons/markers or whatever. Then your drawing springs to life when you look at it through the camera lens of any late model iOS or Andorid phone. Another developer, Sesame Workshop, has a similar Vuforia based app called Big Bird's Words.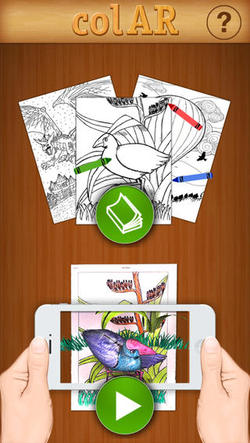 Incorporating 3D Printing
For gamers more tied to the real world, Hasbro, Lego and SpinMaster are three examples of large toy companies that have announced 3D printing capabilities. Whether you'll be printing lost game pieces or printing your own personal set ofLegos, we're about to see exciting examples of how entertainment companies will use 3D printing.
courtesy of http://www.huffingtonpost.com/robin-raskin/big-brand-game-companies-_b_5021360.html?ir=Technology&utm_hp_ref=technology
Spelling 1-2
[ezcol_1half]Features
– Accepts custom word lists
– Multiple-player log-in
– Three unique spelling games
– Audio pronunciations
– Progress tracking
– Progress reporting
– Printable progress reports
– Instant grading
– Audio prompts and encouragement
– Animated scenes
– Playful music
– Colorful graphics
[/ezcol_1half] [ezcol_1half_end]Skills
– Word recognition
– Spelling patterns
– Letter sounds
– Long vowel sounds
– Short vowel sounds
– Combination sounds
– Silent letters
[/ezcol_1half_end]
A G-R-E-A-T app to help good spellers become great spellers and struggling spellers succeed. This fantastic software includes over 2,000 first and second grade level words, plus personal spelling lists that can be added while they play. Download this app, and send children on a magical journey under the sea where their spelling success will be rewarded with creative fun. With School Zone's Spelling 1-2 app, kids get three games in one. In the Sunken Ship's Galley Game, they learn to spell by seeing the word, hearing it, and then typing it. Kids unscramble words by rearranging the letters in the Coral Reef Game, and in Neptune's Cave Game, they choose the correct spelling from a number of misspelled versions. Each unique game helps sharpen spelling skills at every level. To make the game more fun and to motivate young spellers, each game offers cool collectables. As children successfully spell words, they release trapped fish and earn prizes. After a fish is released, it goes to live in the Tropical Lagoon. Children use the prizes they earn to decorate the lagoon, creating a special place for the fish to live. It's a virtual aquarium. 
---
Read with Biff, Chip & Kipper
Start your Read with Biff, Chip and Kipper collection with TWO FREE interactive ebooks!
Starring the much loved characters from Oxford Reading Tree, Read with Biff, Chip & Kipper complements what children are learning at school and helps parents support their child's development.
—- The Books —-
•Used to teach reading in 80% of UK primary schools.
•First Stories are motivating stories which help new readers practise reading everyday words and develop vocabulary.
•Phonics books are entertaining stories which enable children to practise their letters and sounds just as they do at school.
•Gradual progression and vocabulary repetition helps to build reading confidence.
•Hints and tips – every book provides practical tips and simple ideas for you to use with your child when reading and talking about the story.
•Puzzles and activities – each book encourages your child to have fun looking for details in the story and offers lots of opportunities to talk and practice their reading skills.
—- The Apps —-
The apps are true to the books and focus on learning to read but in a thoroughly modern and enjoyable way.
Read these delightful stories with your child, or listen as each page is read to you. Interact with the page to get the exact pronunciation of each word.
Read with Biff, Chip & Kipper series:
•Level 1: Getting ready to read. Age 4-5 years
•Level 2: Starting to read. Age 4-5 years
•Level 3: Becoming a reader. Age 4-5 years
•Level 4: Developing as a reader. Age 5-6 years
•Level 5: Building confidence as a reader. Age 5-6 years
•Level 6: Reading with confidence. Age 5-6 years
Courtesy of iTunes
---
LITTLE WRITER
[ezcol_1third]WHY PARENTS AND TEACHERS LOVE THIS APP

✔ The app is so easy to use that even toddlers will enjoy playing with
✔ The app is beautifully designed and just a joy to look at and use
✔ You can turn individual items ON or OFF and introduce one letter at a time based on the player skills
✔ You can customize everything – record your own language or add your own words
✔ Adding pictures and names of family and friends to write is a hit with every child
✔ The app also includes a collection of basic shapes to draw since handwriting require the same core skills 
✔ The app comes preloaded with dozens of three and four letter words to write 
[/ezcol_1third] [ezcol_1third]WHY KIDS WILL LOVE IT TOO

✔ This app is just FUN. 
✔ Tracing the along the lines and collecting all the apples and fishes is a pure joy for every child 
✔ Gorgeous graphics and cute sounds keep kids begging for more 
✔ Kids love hearing everything in mommy's or daddy's voice 
✔ The app is super easy to use for kids of all ages and abilities.  
[/ezcol_1third] [ezcol_1third_end]WHATS INCLUDED

✔ ABC uppercase letters
✔ abc lowercase letters
✔ Numbers 1 to 10
✔ 20 basic shapes including lines, circles, rectangles and more
✔ Dozens of 3 and 4 letter words to make practice more enjoyable and interesting
✔ Ability to add an unlimited number of your own words and pictures for maximum enjoyment and variety
✔ Additional letters for foreign language characters. Just go to settings to turn additional characters on and record their sound[/ezcol_1third_end]
---
Lego 4+ for Foundation
[ezcol_1third]Lego has many good kids apps available on the AppStore but one really good one, which we like very much, has to be Lego 4+.
Lego 4+ is a brilliant app game for the iPad & iPhone, where kids can play with the Lego bricks anywhere  
[/ezcol_1third] [ezcol_1third]
The main emphasis of this game is for kids to construct their own vehicle and for them to drive their vehicle to many different destinations.
This kids app is mainly a vehicle-game with some integrated puzzle elements.
The route on which the vehicle drives depends on the type of vehicle.
The kids can drive their vehicle to the zoo, airport and landfill etc. Â 
[/ezcol_1third] [ezcol_1third_end]
The kids app has user-friendly controls and the design is rich in colour.
There's one big button for the acceleration and another special button to control other functions such as the lights for the police car or flying the helicopter up in the air.
The cars tend to turn over when they drive over the lovely designed ski jumps, however they always flip back onto their wheels really easily. The game is not over and the vehicle does not fall into pieces when that happens.
In this game app, every kid will get to it's destination – superb! There are no frustrating moments with Lego 4+.
[/ezcol_1third_end]
---
[ezcol_1third]

Bee

[/ezcol_1third] [ezcol_1third][/ezcol_1third] [ezcol_1third_end]Bot[/ezcol_1third_end]
Want an easy way in to programming in the classroom? Bee-Bot for iPad is the iOS app version of the very popular Bee-Bot floor robot, and helps instil basic programming skills in young learners. Here's why it's been creating a buzz (sorry) around the education team…
What is Bee-Bot for iPad?
The original Bee-Bot is a classroom-friendly floor robot, and Bee-Bot for iPad (TTS Group, free) is the app version of that. Using the same keypad functionality of the hardware version, the aim is for pupils to solve various challenges by programming a cartoon bee to move around different levels through sequences of forwards, backwards, left and right 90 degree turns. Whereas the physical Bee-Bot requires actual floor space, the Bee-Bot app lets pupils work either individually or in a group on iPad, so it's great for classrooms where space is an issue.
---
[ezcol_1third]
Teachers login through their device and select an activity which controls the flow of questions and games. Students simply login with their device and interact real time with the content.
[/ezcol_1third] [ezcol_1third]
Student responses are visually represented for multiple choice, true/false and Short Answer questions. For pre-planned activities a teacher can view reports online as a google spreadsheet or as an emailed Excel file. [/ezcol_1third] [ezcol_1third_end] WATCH THE VIDEO Click here to take the video tutorial. [/ezcol_1third_end] Socrative is a smart student response system that empowers teachers to engage their classrooms through a series of educational exercises and games via smartphones, laptops, and tablets.
---
[ezcol_1half]Your imagination is the limit! Endless possibilities. Pose your characters, make them walk around and interact with vehicles, locations and props. Their mouths automatically move in sync to your voice! Play it all back and share your movies![/ezcol_1half] [ezcol_1half_end]Puppet Pals has been used in countless educational and creative settings. Perfect for book reports, language and story development, storyboarding, creative brainstorming, second language practice and countless other uses. Plus, it's just amazing fun![/ezcol_1half_end]
WATCH THE VIDEO
Click here to see Puppet Pals 2 in action:
---
EXPLAIN EVERYTHING
[ezcol_1third]
Import and Insert
Any document, picture or video
Documents (PDF, DOC, PPT, Keynote), pictures, videos, sound files, active web browser windows can be added to your project in an instant.
[/ezcol_1third] [ezcol_1third]
Draw and Annotate
Total freedom of drawing on anything
Use a pen or laser pointer, annotate, highlight text and add shapes with full color palette and transparency. You can draw on anything (including videos!). Annotations stick to documents and move with them.
[/ezcol_1third] [ezcol_1third_end]
Move and Animate
Ideas in motion
Every object including drawings, annotation, video, and web browsers, is movable and can be grouped with other elements of the slide.
[/ezcol_1third_end]
[ezcol_1third]
Zoom and Pan
Space with no limits
Use an infinite virtual canvas that allows you to show everything you need.
[/ezcol_1third] [ezcol_1third]
Record and Play
Scrubbing is easy
Navigate your recording using the timeline. Redo any part whenever you want.
[/ezcol_1third] [ezcol_1third_end]
Export and Share
Integrated with everything
Connect to many cloud services: Dropbox, Evernote, Google Drive, WebDAV, Box, SkyDrive, YouTube, Vimeo, Youku (China), Skoletube (Denmark).
[/ezcol_1third_end]
Take the time to take the VIDEO Tutorials
---
[ezcol_1third]
[/ezcol_1third] [ezcol_1third][/ezcol_1third] [ezcol_1third_end]
[/ezcol_1third_end]
35 million users
PicCollage is a Top 10 Photo App for iPad and iPhone in the US, Japan and many other countries.
[ezcol_1third]
Quick, fun and easy
Rotate, resize, edit and delete photos using simple, intuitive gestures. Add text, stickers and backgrounds or clip your images without effort.
[/ezcol_1third] [ezcol_1third]
Import from anywhere
Import photos from your photo library, Facebook albums and web to create colorful collages of your friends, family or favorite stars.
[/ezcol_1third] [ezcol_1third_end]
Share to anywhere
Share your creations with others using Facebook, Twitter, Instagram, Mixi or via e-mail.
[/ezcol_1third_end]
---
  From an interview with Mr Alan Peat "The first app 'Alan Peat's Pocket App of Exciting Sentences' came about primarily from a desire to produce something with more collaborative possibilities than my book publications. I wanted an app which gave teachers key information about my sentence types and approach to grammar in a format they could access on their IPads and iPhones."
Why did you choose to focus on sentence level work for your first app?
The book I wrote on this subject already is used in more than 20 countries and the app seemed like a sensible platform to add to the book in a way we can't do in book format. It's also clearly an area of need – work on grammar and punctuation take up more than 40% of my time currently. I also wanted to add a grammar glossary with teaching ideas which isn't in the book. The app also promotes a consistent-language approach to the teaching of sentence types which is fundamentally important in a whole-school approach to grammar. It also encourages the contextualised teaching of grammar – VERY important!
What are the key features of the app that will make it stand out in the App Store?
The key feature that will make it stand out is the huge amount of information and advice it includes for only £1.49 Value for money is of paramount importance. I wanted it to be a reference point teachers would find invaluable. In a sense it is a combination of an Ebook and an App and this makes it stand out from the crowd.
---
 [ezcol_1third]Turn your iPad into your personal interactive whiteboard!

ShowMe allows you to record voice-over whiteboard tutorials and share them online. It's an amazingly simple app that anyone can use, no matter how young or old!


– Discover awesome tutorials created by other members of the ShowMe community[/ezcol_1third] [ezcol_1third]INTUITIVE AND POWERFUL

– Record your ShowMe tutorial right away — no manuals or complicated menus needed
– Drop in images onto the whiteboard
– Easily switch between drawing and erasing (as well as pausing and playing) to make your ShowMe flow from concept to concept
– You can make your ShowMe as long or as short as it needs to be, and record as many ShowMe's as you want. Go nuts!
– Once you're finished recording, upload your ShowMe to share with the community (or keep it private if you prefer)[/ezcol_1third] [ezcol_1third_end]
[/ezcol_1third_end]
---
[ezcol_1third]
[/ezcol_1third] [ezcol_1third]
Student Engagement with Books

Kindle excites students about reading. The same great features that help you lose yourself in a book on Kindle translate seamlessly to the classroom, helping students learn to read or study more effectively. With Kindle, students no longer need to be discouraged by the size of a book or self-conscious when carrying their books to class, motivating even reluctant and struggling readers.

Books for an Entire Class in Minutes

Teachers can now think of an eBook and have it distributed to an entire class wirelessly in minutes using Whispercast, a free self-service online tool. Schools can use Whispercast to leverage the Kindle Store's massive collection of over 1 million books, newspapers, and magazines, including millions of free, out-of-copyright titles like Jane Eyreand Oliver Twist.

Designed for Reading

Across all reading levels, Kindle can help meet the individual needs of students with adjustable fonts, line spacing, text-to-speech, built-in reference and dictionary. Students can also add their own notes, highlights, and bookmarks that they can access from their Kindle or any device with the free Kindle app, creating a truly personalized reading experience.

Vocabulary Development

Student motivation plays a large part in reading comprehension. Lotta C. Larson, Professor of Education at Kansas State University conducted a year-long study to determine whether the use of Kindle positively impacts literacy development in primary students and found that students who received Kindles improved their vocabulary development.
[/ezcol_1third] [ezcol_1third_end][/ezcol_1third_end]
Tiny Tap
[ezcol_1half]
[/ezcol_1half] [ezcol_1half_end]The Tinytap platform allows users to create question and answer games based on digital images, voice recordings, and TinyTap's unique painting application. When the application is opened, users select  "create a game," and from there can add photos, text, drawings, and sound to help create questions. TinyTap is integrated with the search engine Bing, so users can pull photos and other media off the web. "Our application is not just about consuming, it's about creating," Elbaz says.[/ezcol_1half_end]With TinyTap users can transform any real-life experience, like a trip to the zoo, or a holiday meal, into a fun interactive game. Users can add background music, and design each stage of the game according to their preferences. "It is very versatile what you can do with questions."  "We let parents and kids become actively involved in the creation process through our question and answer games."
---
HAIRY LETTERS
Hairy Letters teaches children letters sounds by their actual phonic sound rather than the letter name. Children can interact with animations and trace the letter shape onscreen with their finger, play games to reinforce learning and build letters into simple words.

Possible Classroom Uses:

Connect your device to a projector and model how to create letter shapes.

Give children the chance to use the app individually / in small groups to practice their letter formation and word building skills.

Ask your class to make their own picture alphabet like the one shown in the app. What pictures will they choose to represent each letter?

Use the app to introduce the difference between upper and lower case letters.

Draw a picture of a new member of 'The Hairies' family!

Ask your class to write a story about 'The Hairies'. What adventures might they have?
Users who have LIKED this post: